Working Parents and Carers
---
We can help you support your people through the many seasons of parenthood and beyond.
Working Parents and Carers
---
We can help you support your people through the many seasons of parenthood and beyond.
We think outside the box when it comes to support and can help you lead with a forward-thinking approach to all working parents and carers. Even before COVID-19 we knew that support for working parents and carers was critical - but now we believe this is more important than ever!
Our working parent and carer support can be tailored to the needs of your organisation, from face-to-face coaching and workshops/webinars through to scalable solutions such as our online evidence-based platform The Transition Well.
Developed by Psychologists, 'The Transition Well' incorporates checklists, videos and resources. The program also includes notifications to both the parent and manager sent at various touch points around one's unique transition dates. It includes a Transition Assessment, a Safe Work Assessment, an optional iCOPE emotional health screen and access to the full suite of Nourish modules (pregnancy and post birth care).
Given the critical role of managers, our programs are designed to not only support working parents and carers but also build consistent leadership capability in managing this significant transition.
Recognising that parents and carers require support through different phases of parenthood, we look beyond the norm and cover:
The hidden journey to parenthood
The transition to and from parental leave
The ongoing seasons of working parenthood
THE PERINATAL WORKPLACE WELLBEING PROGRAM (PWWP)
In line with our commitment to work-life wellbeing, the Perinatal Workplace Wellbeing Program (PWWP) is designed to support and make a difference to the mental health and wellbeing of expectant and new parents in Victorian workplaces.
Carefully curated together with the experts at Centre of Perinatal Excellence (COPE) and funded by WorkSafe's WorkWell Mental Health Improvement Fund, the aim of the program is to create organisational change to provide a working environment that impacts positively on the mental health and wellbeing of these workers.
For more information see: https://pwwp.org.au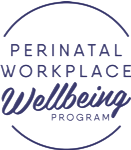 Find out more about how we can support your people through the seasons of parenthood
---